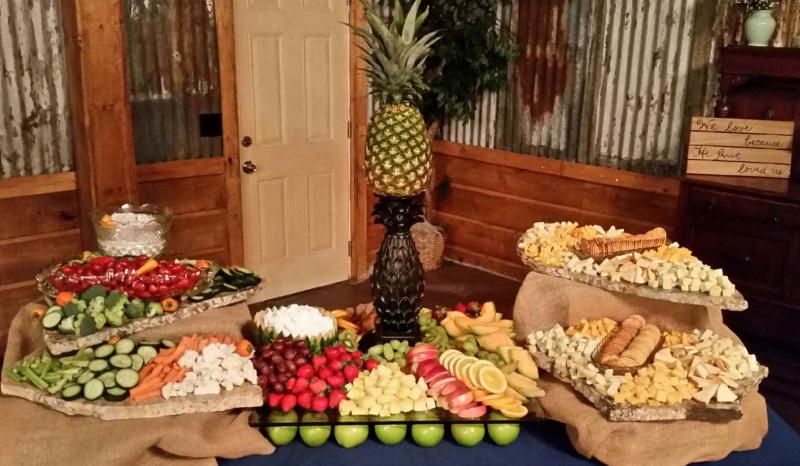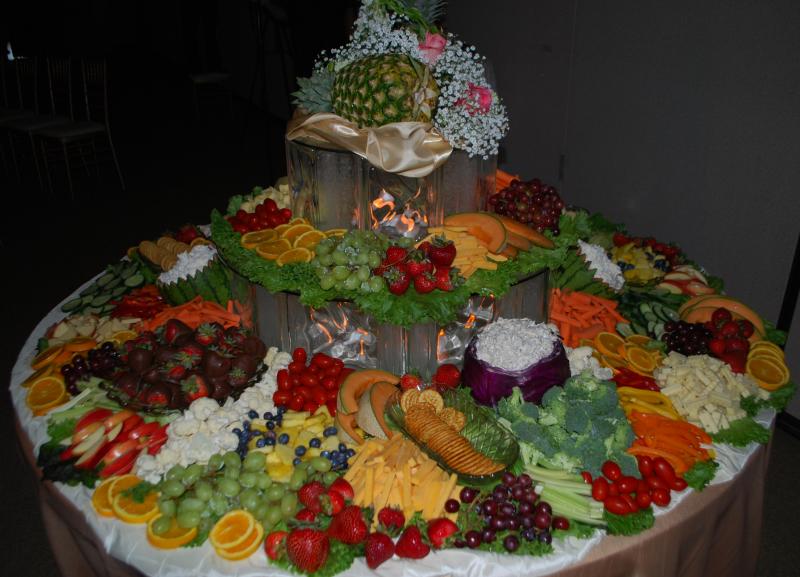 A look at the various menus offered by TEXAS CUSTOM CATERING in Lufkin, TX
Catering menu and options:
Entrees: Carving Station Available. Some entrees can be prepared on site.
Roast Beef, Smoked Brisket, Prime Rib, Ribeye, Strip, Sirloin, or Tenderloin Steak, Chicken Fried Steak, Ham, Roasted Pork Loin, Pork Ribs, Sausage, Grilled Chicken Breast, Smoked Chicken, Roasted Chicken, Fried Chicken, California Chicken,Parmesan Ranch Chicken, New Orleans Chicken, Pulled Pork, Chicken and Dumplings, Almond Rice Stuffed Rock Cornish Hens, Turkey Breast, Turkey, Chicken Spaghetti, Grilled Talapia with Almond Butter Cream Sauce, Fried or Grilled Catfish, Fried Shrimp, Velvet Shrimp, Grilled Shrimp, Crawfish Etoufee, Fried Crab cakes, with Seafood Topping, Grilled Salmon, Pork, Chicken or Beef Kabobs, Gumbo, Red Snapper Ponchatrain, Hamburgers, Hot Dogs, Beef or Chicken Fajitas, Mexican Casserole, Boiled Crawfish (in season). Turkey, Ham, Chicken Salad or Tuna Sandwiches on a Variety of Breads
Side Dishes:
Baked Potatoes, Mashed Potatoes, French Fries, Twice Baked Potato Casserole, Hash Brown Potato Casserole, Potato Salad, Roasted Potatoes, Seasoned Rice with Sausage, Green Beans, Buttered Corn,
Peas, Broccoli Salad, Green Salad, Pasta Salad, Pinto Beans, Baked Beans, Corn Casserole, Corn on the Cob, Spanish Rice, Roasted Mixed Vegetables, Grilled Asparagus, Relish Trays, Broccoli and Rice Casserole, Macaroni and Cheese, Sweet Potatoes
Desserts:
Peach, Blackberry, Cherry or Apple Cobbler, Pound Cakes, Banana Pudding, Chocolate Cake, Carrot Cake, Lemon Bars, Pecan Bars, Chocolate Chip Bars, Blackberry Bars, Bread Pudding, Flaming Deserts, Cookies, Mini Individual Bundt Cakes, Cheesecake Bar.
Hors D'oeurves:
Meatballs, Monterey Chicken Breast, Artichoke Mini Bite Teasers, Hot Wings, Sausage, Pork Tenderloin, Bacon Wrapped Jalapenos, Proscuitto Wrapped Asparagus, Fruit Display, Vegetables Trays, Cheese Trays, Deviled Eggs, Salmon Mousse Cucumbers, Finger Sandwiches, Potato Nests with Fillings, Stuffed Mushrooms, Potato Wedges with Sides, Flour Tortilla Pinwheels, Boiled Shrimp with Remoulade and Horseradish Sauce, Mini Meatloaf Bites with Whipped Potato Frosting.
Stations:
Nacho Station, Mashed Potato Bar, Slider Bar, Seafood Bar, Soup Station, Dips (hot and cold), Fruit, Veggie and Cheese Station, Savoury Cheesecake Bar, Biscuit Bar, Popcorn Bar
Chocolate and Caramel Dipping Station, Cheesecake Tini Bar, Bananas Foster
We try to honor all requests for different food items. If there is something you want that is not here, we will do it. Some vegetarian meals available.
Please call for pricing and other options.